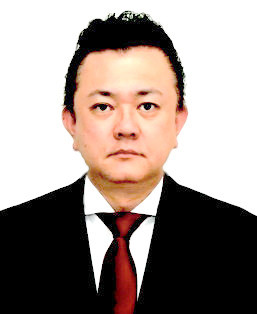 Greetings
---
We are committed to putting the customer first, and to making things even better.
I and all of our employees are committed to working together as a team to find the best way to make things better and to achieve our goals.
Even if a product is not available at this time, we will continue to expand our facilities and take on new challenges in the future.
Please feel free to contact us at TAI-UI SEIKEN.
Thank you.
---
Company Name
THAI UI SEIKEN CO., LTD. (THAILAND)
Address
700/195 Amatacity Chonburi Industrial Estate
Moo 1 Tambol Bankao AmphurPanthong , Chonburi 20160
Telephone
0-3846-8431-39
Fax
0-3846-8440
Establishment
June 11, 1996
Capital
Baht 7 Million
President
MR. HIDEHIKO FUKUDA
Employees
80 Persons (include 5 Japanese)
Production
Electric Parts, Assembly Parts, Automotive Parts, Progressive and Single Die.
Quality Policy
To produce the highest quality products and provide
the best service to ensure customer satisfaction.
---
Our Award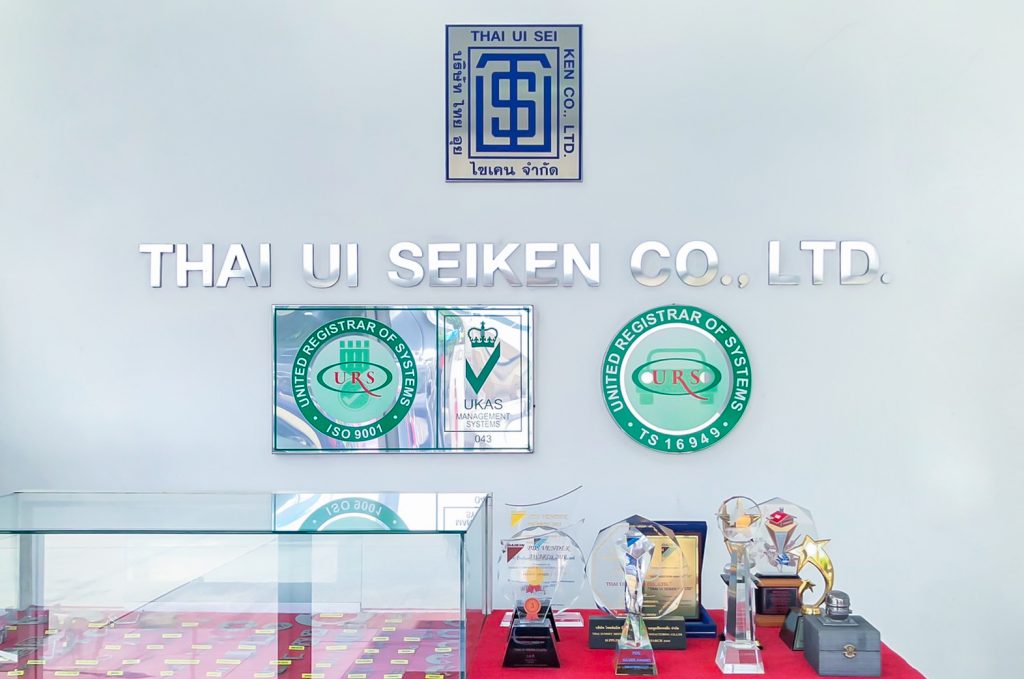 ---
HISTORY
1996 : Establishment Thai Ui Seiken Co.,ltd. at Samutprakarn Province.
1996 : Contract manufacture with HITACHI Compressor Changed to GMCC and Welling
1996 : Appliance Component (Thailand) Co.,Ltd. , Panasonics,
2000 : Certified the best contractor from MATSUSHITA (Panasonic) Refrigerator (Thailand)
2002 : Certified Distinguished supplier award "EXCELLENCE" from SANYO
2005(Jan) : A company movement to Amata City Chonburi Industrial Estate
2005 : Obtained ISO 9001:2000 RWTUV No. 0410020055094E5
2005 : Obtained BOI (Board of Investment) from Thailand Government
2005 : Add new press machine AMADA 80ton, 150ton to support new customers
2006 : Add new press machine AMADA 200ton for additionally capacity
2007 : Certified 2006 Best Delivery Award from TSM
2008 : The Best Supplier Awards for QCD Activities in 2007 from TSM
2008 : Add new press machine AIDA 110 ton and 80 ton(x2) for additionally capacity
2009 : Obtained ISO : TS 16949:2009 IATF No.:0096426 44111091342
2010 : 1st PDS Vender Award 2010 from DCI
2012 : 2nd PDS Vender Award 2012 from DCI
2014 : 1st PDS Vender Award 2014 from DCI
2015 : VA Suggestion Award 2015 from DCI
2016 : 1st PDS Vender Award 2016 from DCI
2017 : 2nd PDS Vender Award 2017 & Best Performance Excellence Award from DCI
2017 : Received a Green Industry Level 2 Certificate


2018 : Obtained : IATF 16949 : 2016 (No: 0096426 44111091342)
2018 : Gold level PDS Vender Award 2018 from DCI
2019 : 3st PDS Vender Award 2019 from DCI
2020 : CERTIFICATE OF APPRECATION SCI's SUPPLIER AWARD 2019
2020 : Mr.Fukuda took a new president position
2021 : 3rd PDS Kaizen Award 2021 from DCI
2022 : The Best Performance 2022 Delivery from DCI
2023 : Install Solar cell
---